The wave of aging Baby Boomers will reshape the health care system forever. They will utilize more health care services and do everything possible to remain independent and age at home. We can help you find a home health care business for sale. This is a great business opportunity and a chance to help people as well.
The Demand For Home Care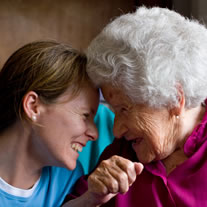 The U.S. Department of Labor anticipates 78 million baby boomers born between 1946 and 1964 will have a significant impact on healthcare demands in the upcoming years. To avoid costly nursing home expenses, many will likely opt for home healthcare, creating more than 1 million new home healthcare positions over the next 10 years.
As baby boomers age, the number with multiple chronic conditions is expected to grow from almost 8.6 million today to almost 37 million in 2030. The large number of baby boomers with acute and chronic care needs will clearly challenge the nation's health care system. In general, baby boomers between the ages of 54 and 59 report having more chronic health conditions, pain, problems with alcohol and psychiatric problems than their parents reported having when they were the same age. Boomers will require more care, especially home health care, and better coordination of care.
Here are some interesting facts about the home health care market:
Industry revenue is approximately $74B
Currently 12 million patients and more than 428 million patient visits each year
There are approximately 33,000 companies in the US providing home health, hospice and home care services
Other sectors in the industry revenue total include DME (Durable Medical Equipment) and home health therapy (Physical, Occupational and Speech Therapy)
In the past 10 years, employment has increased by almost 50% to approximately 1.4 million workers
About 70 % of those using home healthcare services are age 65 and older. In this age group, the most common medical conditions requiring home care are: heart disease, diabetes, and cerebral vascular diseases
The number of people needing memory care services is growing exponentially
There are actually two different types of home care. Private duty home care agencies offer a broad range of long-term services to assist people with non-medical activities in their daily lives, from help getting dressed to bathing to bill paying to transportation services to meal preparation and companionship. The goal is to help people remain independent as long as possible in their own home. These services are generally not covered by insurance and paid for privately.
Home health care is medically driven and helps adults and seniors who are recovering after a hospital or facility stay, or need additional health care services to remain safely at home and avoid unnecessary hospitalization. This type of care is generally provided by registered nurses, physical therapists, occupational therapists, and home health aides. It is often covered by Medicare, but people sometime pay privately as well.
We can help you find a home care business for sale that best meets your needs.