If you want to find an RV park or campground for sale, we can help. Enjoying the RV lifestyle, living in a recreation area, meeting new people and making a living at the same time truly is an exciting opportunity. And many parks are closed for part of the year, creating time to travel as well.
RV Ownership is Booming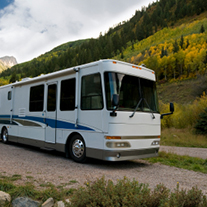 The number of RVs in use is on the rise in the United States, with 8% of all vehicle-owning households owning an RV. This equates to approximately 9 million RVs on the road, which the Recreation Vehicle Industry Association expects to grow to 10.4 million in the next ten years. And there are more than 16,000 campgrounds nationwide.
This popularity of RV ownership is a result of a number of factors such as:
RVs are popular with the baby boomer population. The baby boomer generation is getting older, and with it comes an increase in the number of people likely to buy RVs and visit RV parks. A recent study found that 25 percent of baby boomers intend to buy an RV in the future.
RVs support a balanced and healthy lifestyle. Owners report that RV travel enables them to experience nature and outdoor activities and enjoy quality family time.
RV ownership and travel is a great value. A recent cost comparison study showed that a family of four can save 23-to-59 percent on vacation costs by traveling in an RV, even after factoring in ownership costs and fuel.
RV manufacturers are making products consumers want. Manufacturers are producing lightweight towables and smaller, fuel-efficient motor homes. Green technologies such as solar panels and energy-efficient components appeal to consumers.
Lifestyle trends continue to spur demand for RVs. RV owners overwhelmingly said in recent surveys that their RV makes it easier to take more frequent weekend getaways or mini-vacations that accommodate busy family schedules.
More parks are big rig friendly. - The "big rig" segment of RV ownership has been a growing segment and more RV parks are able to accommodate them.
Membership campgrounds have become popular. - Membership parks are becoming travel destinations, with some focusing on particular activities such as golf, water recreation, or tennis. Members pay an annual fee for free nights at the park. They often include a clubhouse.
Source: Recreation Vehicle Association.